Synaptec's patented technology uniquely blends the disciplines of photonics, electronics, power and instrumentation to enable our clients in the power industries to instantly know the electrical, mechanical and environmental state of their systems and networks.
Our core technologies are an innovative application of optical fibre sensors allowing direct measurement of electrical current and voltage using existing fibre-optic infrastructure installed in the power networks, and optical interrogation schemes that gather and characterise the resultant measurements.
Using optical fibre – the gold standard medium for low-loss communication – our technology enables long-distance and "power supply free" measurements of a wide range of electrical or mechanical parameters. By piggy-backing on existing fibre networks, this minimises the cost of installing, expanding or enhancing sensor coverage on power systems. By gathering many different measurements on a single fibre, we can make protection and monitoring schemes simpler and more efficient.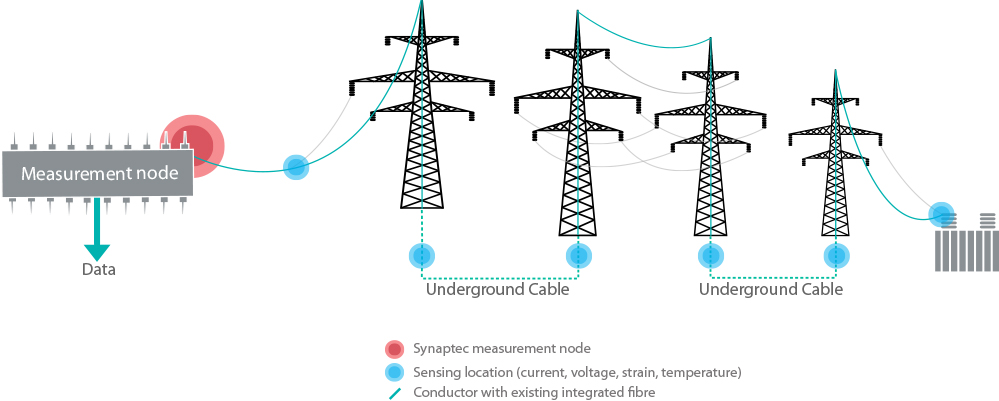 Our robust sensors use established, reliable core components which are deployed in the most highly-demanding situations, including in military instrumentation systems and on NASA's Mars rovers.
Our technology is uniquely able to simultaneously acquire measurements of many diverse parameters, notably voltage and current waveforms, from widely-spaced locations throughout a power network or item of plant. It does so passively, without traditional data rate limitations, and with minimal hardware. This results in a unique combination of capabilities: flexible sensor array deployment, single-fibre interrogation, and an extremely rapid response – giving rise to a broad range of solutions to deliver improved and cost-effective instrumentation systems to the electrical power industries.
Notable unique aspects of this instrumentation technology include:
Centralised measurements without telecommunications: All measurements are made available at a single location without the need for dedicated communications systems.
Multiple measurements of diverse parameters with a single fibre: Voltage, current, temperature and vibration can be measured using remote non-powered sensors, all interrogated via a single optical fibre connected to the interrogator;
Fast interrogation of large, wide-area sensor networks: Unlike other measurement technologies, which utilise digital communications, this technology can scale up the number of sensors and the area covered without any significant impact on network complexity or measurement bandwidth.
Fixed and known measurement latency: All measurements are in synchronism (with fixed and known latency of approximately 5 µs per km).
Compatibility with the latest standards: Measurements are made available in standardised sampled value formats (IEC 61850-9-2) or bespoke protocols upon request.
As a result, our technology is capable of substantially reducing our clients' costs associated with large-scale deployment of high-performance grid instrumentation: in order to lower their risk of accommodating more renewable energy sources and improve their security of energy supply.