Synthesis® is a comprehensive visualisation and analytics platform, designed to take full advantage of the unique capabilities of Synaptec's Distributed Electrical Sensing (DES) technologies.
It allows the synchronised waveform outputs from Synaptec's sensor arrays to be conveniently visualised in real-time and analysed to provide long-term trend information – leading to powerful condition monitoring and operational insights at unprecedented scale and detail.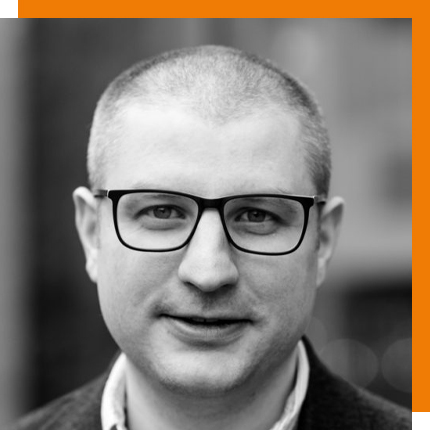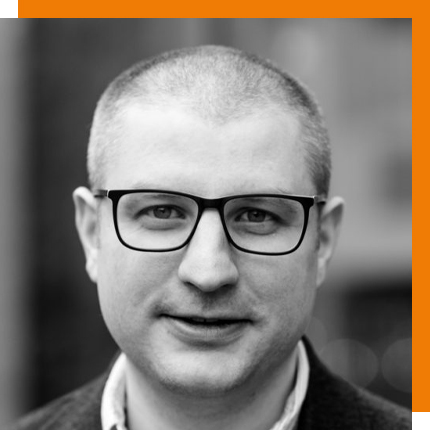 Steven Blair
Head of Power Systems Technologies
This platform provides wide-area, high-resolution, time-synchronised, and combined electrical and mechanical measurements. Synthesis is designed to better inform real-time control room decisions, reduce scheduled maintenance cost, and support long-term asset management plans.
Synthesis provides a platform for intelligent, data-driven applications within a substation and over a wide area, building on the powerful instrumentation capabilities of Synaptec's products and other compatible digital systems.
The value of Synthesis® to operators
The increasing complexity of power networks due to decentralisation and the increasing integration of renewable power generation makes data gathering and analytics critical to the smooth and efficient running of networks both in terms of the supply of day-to-day power and addressing abnormal system conditions.
Synthesis is designed to operate with high-resolution waveform data from a large number of sensors. This provides the equivalent of having digital fault recorders and power quality analysers available at all monitored locations, but without the high cost of conventional instrumentation and communications. This enables operators to respond faster, more efficiently, and with greater accuracy, leading to improved situational awareness and response to major grid events.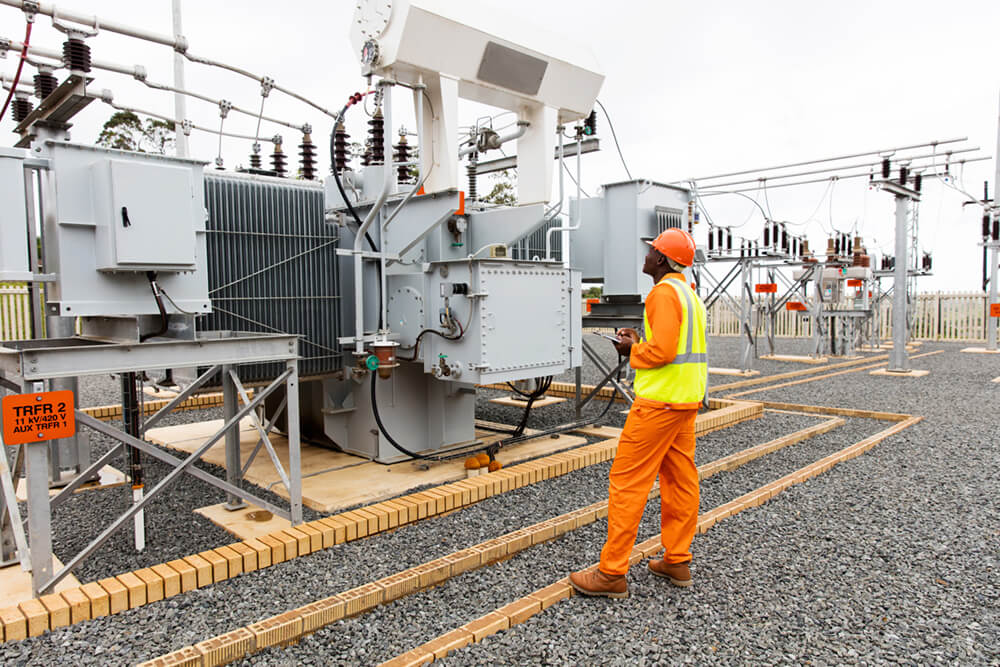 The unique benefits of Synthesis®
Designed to operate with high-resolution waveform data from a large number of sensors. There is high value in operators analysing this data, and Synthesis enables such waveform data to be fully visible and exploited.
The unique wide-area insights and combination of electrical and mechanical sensing opens up new forms of analysis and asset management techniques.
The intrinsic time synchronisation of all measurements greatly facilitates quickly understanding events and performing data analytics – without requiring complicated pre-processing.
Synthesis® allows for additional valuable information, such as synchrophasors and harmonic content, to be efficiently calculated, visualised, and transmitted to other systems.
The web-based interface provides convenient secure access from multiple device types.
Provides a simple and convenient way to oversee system commissioning, debugging, and testing.
Flexible deployment
Synthesis offers flexible deployment options. It can be based within the operator's private data network, supplied as a standalone hardware system, or delegated to an external secure cloud computing and storage environment. The integrated web-based interface offers customisable and secure access from multiple devices. Third-party data streams, such as weather information, can also be integrated.
Synthesis records the full detail of synchronised waveform data whenever interesting or important events occur – such as changes in nominal voltage, current, frequency, and other parameters. This allows asset degradations and failures or system-wide phenomena such as oscillations to be properly detected and assessed. It also records a summary of the state of each monitored location, including full harmonic information every second. A lossless, compressed data format has been designed to efficiently transfer and store synchronised waveform data (requiring approximately 10% of the data bandwidth of the original data). A specialised database ensures that this information can be rapidly accessed, visualised, and analysed.
Download Synthesis® product flyer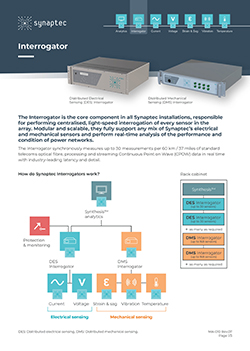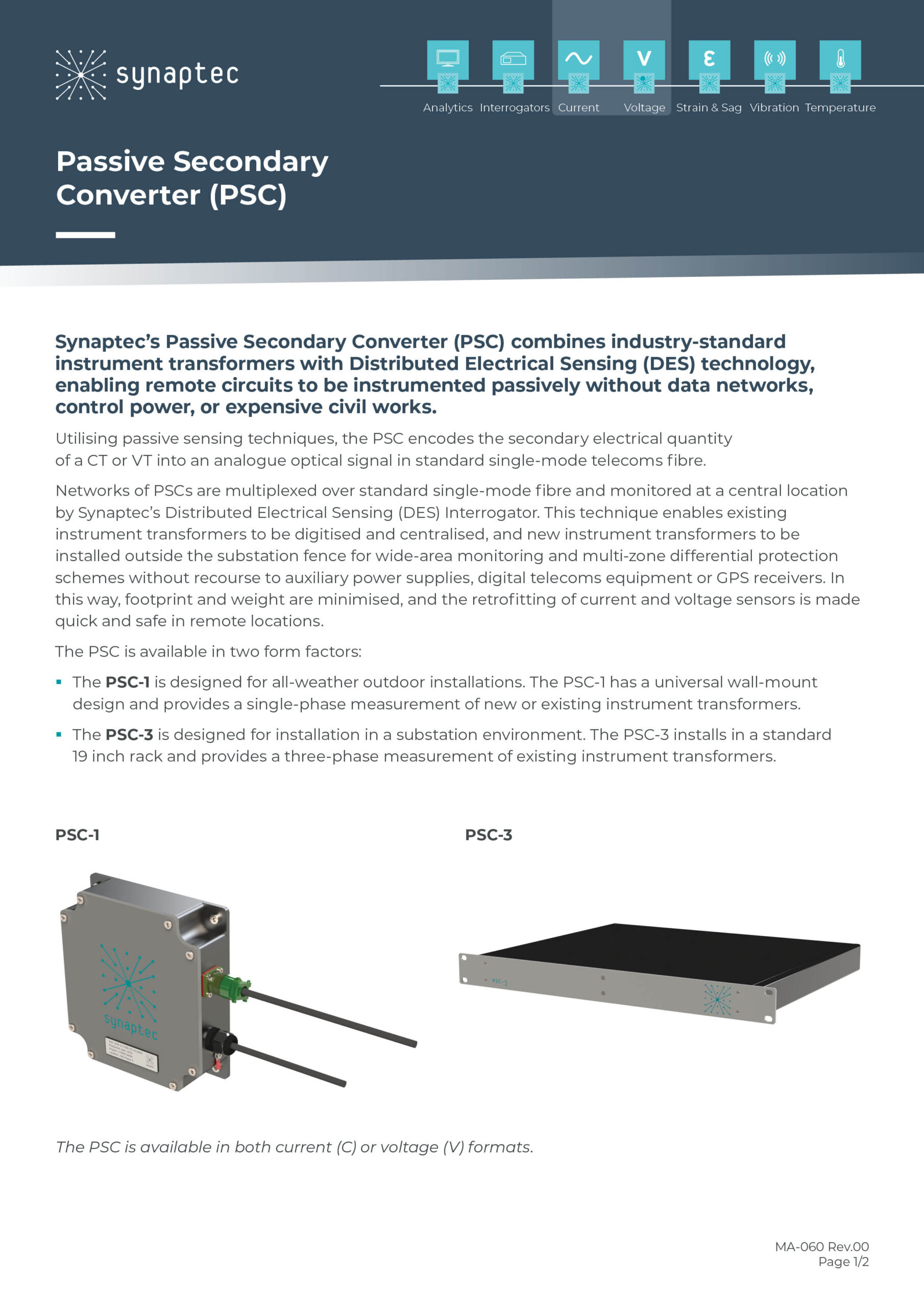 Passive Secondary Converter (PSC)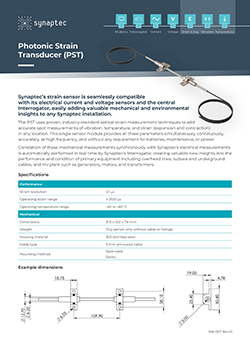 Photonic strain transducer (PST)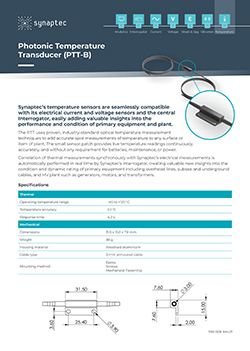 Photonic temperature transducer (PTT)
OHL sag, ampacity and Dynamic Line Rating (DLR)
Cable condition monitoring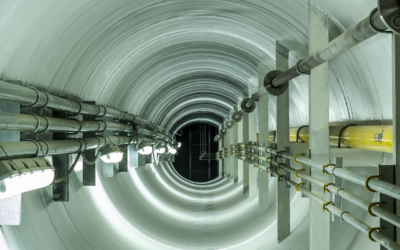 As Synaptec sensors require no control power, data networks or expensive civil works, it is now feasible to instrument these remote locations to provide early warning of more cable failure modes than with conventional technology.
read more
Distributed Electrical Sensing